Published on
Webinar: Knowledge management from bottleneck to success factor
Authors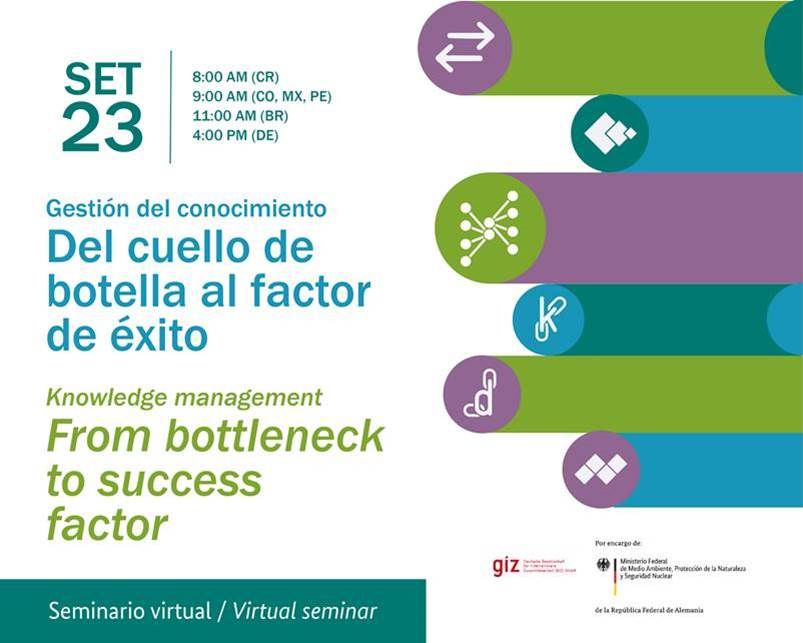 We are invited to take part in a webinar that will take place on September 23 and that focuses on the preliminary results of a knowledge management assessment we have conducted in 2020-2021. Development cooperation professionals from more than 30 projects related to climate change in Latin America will attend.
At the end of an adventure that lasted almost a year among the ups and downs of the pandemic, we are happy with this great result.
The study focused on four projects working in the context of climate politics and Nationally Determined Contributions (NDCs) implementation in Peru, and initiated a collaborative exercise to understand how a joint and coordinated knowledge management approach among different organizations can enhance the evolutionary learning across projects and other networks, thus advancing NDC implementation processes, creating and sharing best practices as well as innovations.
The journey we have undertaken with colleagues from the SPA project, South South North and Libelula, and whose first findings will be presented and discussed in the webinar has been as challenging as it has been enriching.
The remote nature of the assessment posed unprecedented methodological challenges to the implementation of the project. Throughout the process we developed and tried new techniques/enhanced our methods/extended our toolbox with new agile storytelling and online collaborative boards solutions.
The collection and analysis of findings had undergone modifications due to the changed modus operandi. It was challenging to understand the dynamics and barriers of learning, coordination, and memorization in a distributed network of projects and for each stakeholder to identify the specific needs and knowledge management goals. We have worked with 'only' four projects, but we've learned from practitioners how our work can help structure discussions, streamline coordination and decision-making across projects. The key is a mutual framework, developed jointly by all stakeholders, reflecting the variety of knowledge needs and stimulating the development of a shared knowledge management strategy.
We started with 4 projects, and now we have the opportunity to discuss this approach with many others who are part of the same knowledge network.

We worked in English, and the KM methodology has been also translated in Spanish, on the initiative of one of the projects.

We started this adventure on our own, but along the way we got to know other KM service providers, already active within the projects and with whom a full synergy has been established.
At the end of an adventure that lasted almost a year among the ups and downs due to the pandemic, we are happy with these great results.